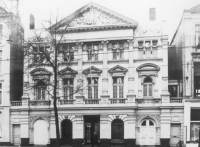 De Joodsche Schouwburg in 1943 *
The
Joodsche Schouwburg
was the collecting place for Jews arrested in
Amsterdam
before being deported to Camp
Westerbork
. It was known as the
Hollandsche Schouwburg
("Dutch Theatre") before the Nazis took over. The name was changed after the Jews had been banned from other theatres. The address of the
Hollandsche Schouwburg
(a Holocaust memorial now) is
Plantage Middenlaan 24
.
On the opposite side of the street,
Plantage Middenlaan 31-33
, there was a crèche,
Huize Henriëtte
, named after the Jewish lady
Henriëtte Pimentel
who founded this institute in 1924.
From October 1942 on, it was used as an annex of the
Joodsche Schouwburg
for children under 13, who were thus separated from their parents. The
Schouwburg
personnel regularly walked in and out of the crèche with messages.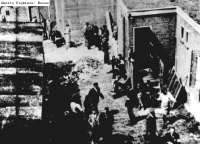 In the Backyard *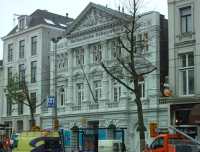 Hollandsche Schouwburg in 2005
In May 1943 a part of the school for teachers next door,
no. 27
, was added to the crèche. The nurses smuggled many children out of the crèche to safer places because there was no German guard in front of the building. The SS man on the opposite side, guarding the
Schouwburg
, was seen as sufficient. But his sight was often taken for a moment by passing trams. Tram drivers often slowed down to give a nurse the opportunity to hide while running away with a child.
Some 600 children who were interned there have been helped into hiding by nurses. This was arranged by Mrs
Pimentel
and Dutch Resistance groups specialized in helping children to hide: the Amsterdam Students Group, the Children's Comittee of Utrecht and the Trouw Group. The manager of the
Joodsche Schouwburg
,
Walter Süskind
of the Jewish Council, was also involved: he took care of the administrative part and arranged permission by the parents for their children to go into hiding.
The crèche was closed in September 1943. The building has been demolished. On the school for teachers, still there, a remembrance
plaque
was installed.
Photos: GFH
*
Sources:
Bianca Stigter:
De bezette stad - Plattegrond van Amsterdam 1940-1945
, Athenaeum-Polak & Van Gennep, Amsterdam 2005
Ad van Liempt:
Kopgeld - Nederlandse premiejagers op zoek naar Joden 1943
, Uitgeverij Balans, Amsterdam 2002
© ARC 2005