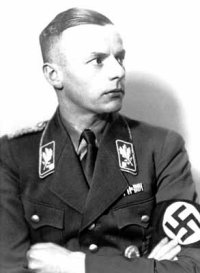 F. W. Krüger
Friedrich Wilhelm Krüger was born in
Strassburg
(France) in 1894. At the time of the outbreak of WW2 he was 45 years old. Krüger came from a military family, as his father,
Alfred Krüger
, died as colonel and regimental commander in 1914. Krüger received an elementary school education locally but left school before obtaining university qualifications to begin his military education as a cadet in schools at
Karlsruhe
and
Großlichterfelde
.
On passing out of his cadet military training he received a commission in June 1914 and on the outbreak of WW1 became a first lieutenant. He was wounded three times and got the Iron Cross 1st class. Following the war he joined a naval brigade. In August 1919 he entered the "
Freikorps von Lützow
" but left it in March 1920 to return to civilian employments. From 1920 until 1923 he worked as a clerk for a publishing company in
Berlin
.
He married in 1922 and had five children: two from his wife and three foster children. In 1924 he served as a director for a refuse company but left after in 1928 because he found the company corrupt. From this date he became a self-employed businessman.
It is not known when Krüger became involved in politics but his friendship with
Kurt Daluege
, commander of the SS in
Berlin
in 1929 and later chief of the German Order Police, may be an indication. In the mid 1920's
Daluege
was the engineer of the
Berlin
refuse dump and no doubt, this is where both men met. The friendship between these two men was to prove a significant factor in the later professional advancement of both men.

F. W. Krüger
Krüger joined the Nazi-Party in November 1929 (No. 6123) and entered the SS in February 1931 (SS No. 171.199). In April 1931, he abruptly left the SS and transferred to the SA. Through the influence of
Daluege
, he immediately acquired the rank and power to reform the renegade SA-Formation East. In 1932 he received the rank of an
SA-Gruppenführer
(Major General) and joined the personal staff of
Ernst Röhm
, chief of the SA. In 1932, he became NSDAP member of parliament in
Berlin
. He promoted to Lieutenant-General (
SA-Obergruppenführer
) in June 1933. He also became chief of the SA-training (
Ausbildungswesen
or AW). As chief of the AW he took charge of the SA's best recruits (250,000), schooling them in officer training and cooperating closely with the
Reichswehr
through the War Ministry.
The "
Röhm Putsch
", which ruined the SA leadership, caused the dissolution of the AW, so Krüger was temporarily out of a job at this time. His sudden switch of loyalties from SS to SA, and his rapid advancement, suggests these turn of events were more than they appear. To many, he was switched for political and pragmatic reasons and it is no coincidence that he was at the centre of the purge of the SA in 1934. This view is enforced by his actions at the time: turning the SA armouries over (for which he was in charge) to the
Reichswehr
once the purge had begun, and the fact that he escaped prosecution unlike many other high ranking SA officers. Finally, he re-entered the SS taking his SA rank with him.
It was in 1935 that Krüger came to prominence and his future was discussed by the SS leadership with
Hitler
. Having been thoroughly vetted, he was appointed an
Oberabschnittsführer
, being appointed on 21 February 1936 as an inspector of border guard units, his personal representative at various formal and informal Party functions.
Krüger was ambitious and no stranger to matching his personal skills with others who at that time were all jostling for position in the New Order. It is during these personal in-fighting forays, that he made many enemies in the scramble to seek recognition for the Nazi leadership. Many of those seeking recognition fell by the wayside, only those who survived this melee of Darwinian selection profited - Krüger was one, others were:
Hans Frank
and
Odilo Globocnik
.
Krügerís all round experience in the military, police, administration and his proven loyalty to the Party, made him an ideal choice to serve in the
Generalgouvernement
as
HSSPF
,
Himmler
ís representative in population and extermination policies. Krüger did not survive the protracted disagreements between
Frank
and
Himmler
and was removed from office in November 1943. Six months later he wrote in a letter: "I have lost honour and reputation due to my four year struggle in the GG." ("
Ich habe für meinen vierjährigen Kampf im GG Ehre und Reputation verloren
."). After the war he followed
Himmler
and
Globocnik
by committing suicide, shooting himself in
Liepaja (Liebau)
(Latvia) on 9 May 1945.
© ARC 2005