FRANZ, Kurt Hubert
SS-Untersturmführer SS-Number: 319 906
17/01/1914 - 04/07/1998
BACKGROUND:
Not a member of NSDAP or affiliated organizations. Belonged to the
Waffen-SS
.
Born in Düsseldorf. Extended elementary school from 1920-1928 in Düsseldorf.
Since 1929 he was trained as a cook, at first in the restaurant "Hirschquelle", then in "Hotel Wittelsbacher Hof" in Düsseldorf without final examination. Soldier during 1935 - 1937. In October 1937 he joined the
Waffen-SS
(
3. SS-Totenkopfstandarte Thüringen
). End of 1939 summoned to the
Führer
's Chancellery and detailed for service as cook in the euthanasia institutes at Grafeneck, Hartheim, Sonnenstein and Brandenburg.
As member of the 6th battalion he served at the Buchenwald concentration camp in 1941 (SS Clothing Department, perhaps cook).
On 30 January 1940 he was promoted
SS-Unterscharführer
, in 1941 (?)
SS-Scharführer
. During Spring 1942 ordered to the
Generalgouvernement
.
SERVICE AT BELZEC AND TREBLINKA:
Kommandant of Treblinka, from 27 August 1943 - November 1943.
In spring 1942 (as
SS-Scharführer
) to Belzec. On 20 April promoted
SS-Oberscharführer
. He worked as cook, and trained the Ukrainian guards there. In August/September 1942 he was ordered to Treblinka where he took over the Ukrainian guard squads and rose to be deputy camp commandant. Commandant of Treblinka, from 27 August 1943 until November 1943. Promoted
SS-Untersturmführer
on 21 June 1943.
Franz
was the dominant personality in Treblinka when it came to the day-to-day running of the camp, and especially with regard to the prisoners. To the prisoners
Franz
was the cruellest and most frightening among the SS personnel in the camp. His physical appearance was extremely deceiving: he was nice-looking; he had a round, almost baby- face; and he was younger than most of the other SS men. He was therefore nicknamed "Lalke" ("doll" in Yiddish) by the prisoners. However, he was a murderer and a sadist who made the prisoners' lives a nightmare.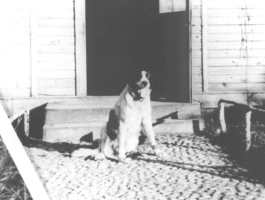 BARRY
Mostly, when
Franz
made the rounds of the Lower Camp and the extermination area, his dog
Barry
accompanied him (
Barry
's first owner was
Paul Groth
, Sobibor). Depending on his mood,
Franz
set the dog on inmates who for some reason had attracted his attention. The command to which the dog responded was, "Man, go get that dog!" By "Man"
Franz
meant
Barry
; the "dog" was the inmate whom
Barry
was supposed to attack.
Barry
would bite his victim wherever he could catch him. The dog was the size of a calf so that, unlike smaller dogs, his shoulders reached to the buttocks and abdomen of a man of average size. For this reason he frequently bit his victims in the buttocks, in the abdomen and often, in the case of male inmates, in the genitals, sometimes partially biting them off. When the inmate was not very strong, the dog could knock him to the ground and maul him beyond recognition. But when the defendant
Franz
was not around,
Barry
was a different dog. With
Franz
not there to influence him, he allowed himself to be petted and even teased, without harming anyone. (Donat, p.313)
Franz
reviewed the prisoner roll call and took part in meting out the punishments. He especially enjoyed shooting at the prisoners or the people in the transports with his pistol or a hunting rifle.
Franz
as remembered by one of the prisoners
Oscar Strawczynski
: "Once
'Lalke'
was strolling along the platform with a double-barrelled shotgun in his hand and
Barry
in his wake. He discovered a Jew in front of him, a neighbour of mine from Czestochowa, by the name of
Steiner
. Without a second thought, he aimed the gun at the man's buttocks and fired.
Steiner
fell amidst cries of pain".
FATE:
Ordered to Trieste, where he took part in killing partisans and Jews. Imprisoned by US Forces after the war. He could escape from prison and worked again as cook. On 2 December 1959 he was imprisoned again. Sentenced to life imprisonment by the German
Landgericht Düsseldorf
on 3 September 1965. Died in an old people's home in Wuppertal on 4 July 1998.
After closing of Treblinka,
Barry
accompanied a doctor to the Ostrow Mazowiecki lazarett. There the dog's behaviour changed. Like a normal domestic dog it usually slept under the desk of his new master and didn't bite anybody. In 1944
Dr S.
took
Barry
with him to his wife in northern Germany. Later his brother became owner. In 1947
Barry
was put down because of infirmity.
See the Franz Photo Story!