In Hadamar the extermination procedure was nearly the same as in other euthanasia killing centres: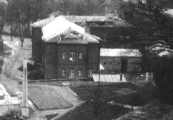 Bus Garage
Large grey buses, carrying victims from nearby mental homes (the
Zwischenanstalten
/ intermediate mental homes
Herborn, Weilmünster, Kiedrich, Idstein, Nassau, Langenfeld, Andernach, Wiesloch, Weinsberg
) to Hadamar, arrived daily.
From the bus garage the victims had to go through the so called "sluice" (a narrow fenced-in path) to the extermination building. The Hadamar "sluice" became model for the "sluices" or "tubes", later used in the extermination camps of
Aktion Reinhard
. Approximately 100 victims were killed every day, lasting until August 1941.
By 24 August 1941 the killing at Hadamar was stopped on
Hitler
's orders. The installations in the cellar were dismantled and other rooms converted back to sickrooms. The surplus staff were ordered to the East to use their "knowledge" at the newly established extermination camps.
During the second phase of the euthanasia program, the killing at Hadamar started again. Now the victims were killed by lethal injections. Until late August 1942, bodies were buried at the town's cemetery. By September mass graves were used, disguised as single graves located behind the building. During October 1944 more than 700 inmates were crowded together at Hadamar.
On 26 March 1945 US Forces captured the town of Hadamar. In the institute's pharmacy 10 kilograms of "Veronal" and "Luminal" (sleeping pills), used to kill the victims, were found.
Members of Hadamar's personnel were put on trial in 1945 in
Wiesbaden
, and in 1947 in
Frankfurt/Main
. They were found to be responsible for killing approximately 10,000 persons. During the 1950's all prisoners were pardoned.
A number of
Aktion Reinhard
personnel served at Hadamar, these include
Kurt Arndt, Kurt Bolender, Max Bree, Kurt D., Werner Dubois, Karl Frenzel, Hubert Gomerski, Karl Gringers, Willy Grossmann, Gottlieb Hering, Josef Hirtreiter, Robert Jührs, Erwin Kainer, Johann Klier, Fritz Kraschewski (probably), Erwin Lambert, Werner Mauersberger, Willi Mentz *, August Miete, Philipp Post, Wenzel Rehwald, Karl Schluch, Erich Schulz, Hans-Heinz Schütt, Erwin Stengelin, Franz Suchomel, Heinrich Unverhau, Christian Wirth, Franz Wolf and Ernst Zierke
.
In 1983 the
Hadamar Memorial
was installed at the infamous building, which to this day is still used as a mental home.
* See the Mentz Photo Story!
| | | |
| --- | --- | --- |
| | | |
| Hadamar | Trail of Smoke | GEKRAT Bus |
© ARC 2005